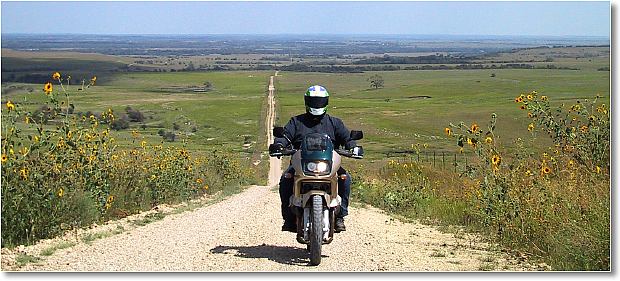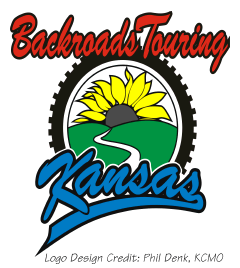 Welcome to Backroads Touring - Kansas! This site and organization was established in June of 2001. We ride to places rarely seen by motorists. There are over 100,000 miles of secondary and unpaved roads throughout Kansas, and many run through pristine ranch and hill country. These are the roads and places we will explore and chronicle on this site. It is not unusual to ride fifty miles or more without encountering a single motorist, and the solitude permits us many opportunities to stop and enjoy some impressive views.

* We consider ourselves most fortunate to have access to the tallgrass prairie and other unique areas of Kansas, and are committed to leaving those areas just as we found them. To those folks who live where we travel to .... we are pledged to "tread softly and leave nothing behind". As a group, we only ride public access roads and do not ride on private roads without permission. When we cross unfenced open rangeland via public roads, we will remain on the roadbed so as to not cause possible damage to the prairie or raise the ire of landowners. We will also take precaution to not "spook" roaming herds of livestock when riding through open range areas.

Care to join us on a ride? Simply visit our bulletin board, watch for upcoming events, and then show-up at a ride rendezvous. It costs nothing beyond fuel and time to be a member of this group.

Newspaper, Media Articles

March 12, 2009
June, 2008
January 13, 2004
December 24, 2003
April 24, 2003



Join us on Facebook!

• Like what you see on this site and wish to help spread the word to your friends? Click Here to send them a formatted e-mail.
• You may also click here to download a Backroads Touring 12-set billfold card sheet. Fill out the fields you want to have appear on one card, the other cards are automatically filled-in. Print on your laser or inkjet printer, trim, and pass on to your friends. (PDF file format - 512 kb file download)



Read how we prepare for a ride, and what safety procedures we practice ... click here.








Webmaster's Rides • Kawasaki KLR650 & KLX250S • Click image to see detail



Weather - Wichita, KS



Marion, KS
620-382-2250



• A Road Of Dirt Is Still A Road
A road of dirt is still a road, though the holes get mighty deep. Cover it with paint, and make it something it ain't, and that road won't let you sleep.
Goose Creek Symphony

• We ride according to the Code of the West.
The men and women who came to this part of the country during the westward expansion of the United States were bound by an unwritten code of conduct. Old West values like integrity, self-reliance and accountability guided their decisions, actions and interactions. Their survival depended upon their ability to cooperate with their neighbors, and they possessed an attitude of collective responsibility to society and finding non-partisan solutions to environmental problems and other important issues.
anonymous

• "Every picture tells a story, don't it?"
Rod Stewart

• "Kansas contains approx. 110,000 miles of paved and unpaved public roads, not including cities and towns."
Historical Atlas of Kansas

• "Kansas, you Fooler, you're makin' me smile cuz I've never seen you this way before."
Ozark Mountain Daredevils

• "The Adventure Rider is one who prefers to see and hear the world .... as opposed to being seen and heard by same, Grasshopper."
Zen Master, Bent Lee

• "They paved paradise, and put up a parking lot."
Joni Mitchell

• "The real cycle you're working on is a cycle called yourself."
Robert M. Pirsig ... 'Zen And The Art of Motorcycle Maintenance'

• "I'd rather wake up in the middle of nowhere than in any city on earth."
Steve McQueen

• What's mainly wrong with society today is that too many Dirt Roads have been paved. Click here ..... for the rest of the story
Paul Harvey

• "If you come to a fork in the road, take it!"
Yogi Berra

• "To the people who complain there are no people in the photographs ... there are always two people .... the photographer, and the viewer."
Ansel Adams

• "Why wander around in the distance, when good things lie nearby?"
Johann Wolfgang von Goethe

• ".... Chase County is the most easterly piece of the American Far West."
William Least Heat-Moon ... 'Prairy Erth'

• "From the point of ignition, to the final drive ...
The point of the journey is not to arrive, anything can happen."
Neil Peart of Rush, Prime Mover